Activities - things to do on Pitt Island
This is a general list of activities available on Pitt Island. More detail can be found using the drop-down menu under Activities. Whatever you choose to do, activities can be changed or amended once you are here. So don't panic about choosing everything right now, just book-in and allow enough days to do the things you want.
Choose from our range of personalised walking, boat and luxury 4x4 Tours. Standard daily rates start at $200 per person, price will vary depending on size of group and type of activity. All activities include transport and guide. Lunch is provided as part of the accommodation package. Optional extra activities include: Fishing Charters, Hunting. See Rates page.
Original Pitt Island Day Tour
The "Original" Pitt Island Day Tour has been operating for over 20 years with hundreds of happy customers. For details of the Pitt Island Day Tour, please refer to the Day Tour page
For those that have a few days, here is a selection of activities that may interest you. We can tailor make any combination or package to suit.
Walking
There are a number of walks on both public and private land on Pitt Is. From one hour bush walks to 3 day coastal walks taking in the most scenic points of the Island. Walks are generally easy with a combination of vast beaches, cliff top, bush and open farmland. We can tailor any walk to suit your fitness and interests.
Our best walks:
Mt Hakepa, first to see the Sun - 2.5 hrs rtn
South End - 3.5 hrs rtn
Waipaua Scenic Reserve - 3.0 hrs rtn
Waihere Bay beach walk and geology excursion - 2.0 hrs rtn
Caravan Bush Covenant - 1.5 hrs rtn
The best way to see Pitt Island
DOC reserves
Our concession provides exclusive access to the 3000 acre DOC estate. An opportunity to get close to our native trees and birds and to gain an appreciation of how Pitt Is once looked. You choose to walk or quad bike with guide thru these amazing reserves. ​
Flora and fauna tours
Pitt Island is home to at least 21 endemic bird species and no less than 52 endemic plant species. During the course of your stay, your guide will endeavour to acquaint you with all our special treasures. Please advise if you have a special interest in birding or botany, we can show you things you have not seen before.
European and Moriori history
As with all our tours and travels, your guide will provide an amazing insight to the lives and habitat of the original Pitt Island inhabitants. The Moriori of Rangiauria (Pitt Is) have left many traces of their dominance on the Island for over 700 years. So too have the early English settlers and their descendent's who now make Pitt Is home.
Mt Hakepa, first to see the sun
An absolute must, sunrise walk, be the first in the World to see sunrise, amazing 360o views of Pitt & surrounding Islands plus a chance to see an Albatross close up. If early mornings don't suit, we can do this walk any time of day.
Rock fishing
If boat fishing is not your thing and you want to catch a fish the way one could in the mainland many years ago, we will happily provide all fishing gear and take you to one of our favourite fishing spots. We almost guarantee a feed and will willingly cook it for your dinner.
Island Cruising
Utilising the services of our local fishing boats, take a half or full day tour of Pitt Island and the outer islands. The amazing views from the water provide a totally different perspective on the island's volcanic origins. Caves, archways and secluded bays abound. An absolute must-do if sea conditions permit! You'll be blown away by the scenery. Enquire for rates.
Boat fishing
Half day boat fishing trips from the Lodge doorstep, minutes to excellent fishing grounds. While Blue Cod and Hapuka are plentiful at most times of the year, other species can include Kingfish, Terakihi, Blue Moki and Shark. All fishing gear provided. Please note that Flowerpot Bay Lodge strictly adhere to the local recreational catch limits. Enquire for rates.
Hunting
The famous Saxon Merino Pitt Island wild sheep have roamed free on Pitt Island for over 150 years. While now constrained to the isolated rocky cliffs - their preferred habitat - these wild sheep are not farmed in any way. Treasured as a source of food and recreation, islanders strive to preserve this now rare breed by promoting sustainable and managed hunting which not only helps to preserve the breed but brings vital income to the island. Flowerpot Lodge has exclusive access to this resource and works closely with land owners to provide a safe and enjoyable hunt. Download Hunting & Fishing packaged holiday information sheet below.
Snorkelling/Diving
Enjoy the crystal clear unspoilt waters around Pitt Island. Reefs, coves, drop-offs, crayfish and spear fishing. Weight belts and wet suits provided. Snorkelling can be easily incorporated into the daily activity. For Scuba divers, boat charter available and air fills on request. Please enquire.
UTV Adventures
Travel Pitt Island how the Islanders do, with our Polaris 6 seat Ranger, the fun and relaxing way to explore the Island. Fully guided UTV adventures for those hard to get to places. Try our Bush Tour with BBQ lunch, a great relaxing day out. Enquire for rates.
Farm Tours
Tours can be arranged to Island farms with areas of special scenic, nature or historic significance. A good way to meet a few of the locals
Geology Tours & Field Trips
Pitt Island has some of the oldest and youngest geology visible in New Zealand. New discoveries are still being made. On Pitt Island you can observe the oldest-known formation of sedimentary rocks in the Chathams. They are between 90 and 100 million years old. They are of special interest because they are organic-rich and suitable as potential 'source rocks' for the generation of oil and gas. To do so however, they need to be buried by about 5,000 metres of sediment. Nowhere else can such rocks be observed on land yet this formation is widespread deep below the sea floor in many places on the Chatham Rise. Several Geology tours already take place each year, please enquire to book your place.
Birders
A birdwatchers paradise. There are no less than 52 native bird species on the Chatham Islands of which 18 breed no where else in the World. The vast majority of these species can be seen on and around Pitt Island. Species include: CI Tui, CI Tomtit, CI Fantail, Forbes Parakeet*, CI Red Crown Parakeet, CI Warbler, CI Pipit, CI Snipe*,CI Oystercatcher, CI Petrel, Royal Albatross, Antipodean Albatross, CI Mollymawk, Giant Petrel, Brown Skua, Broad-billed Prion, CI Blue Penguin, CI Shag, Pitt Island Shag. Banded Dotterel, NZ Shore Plover, Weka, Pukeko, White fronted Tern, White faced heron. And while we are not permitted to land on Mangere or Rangatira Islands, there is the possibility of seeing the famous CI Black Robin* from the water.
*Denotes sightings on very rare occasions, so no guarantee
Photographers
Need we say it - Pitt Island is a photographers dream destination. Whether you are into unique wildlife, strange plants, natural history or rugged scenery, not to mention the sometimes wild weather, this is the place for you. The clear skies and water provide a constantly changing landscape and colour palette. We are happy to get you to the sites that suit.
Corporate Getaways
Flowerpot Bay Lodge offers an ideal alternative corporate retreat - with peace and quiet and privacy guaranteed. Whether on a Team building exercise, board get-together or client treat, we can cater for your needs. We have the normal range of AV equipment, internet service and facilities available for mini conference needs. Couple this with some mild paced or adrenalin raising outdoor activity from our list of activities, and you have the perfect location for your next corporate retreat.


?

Mix n Match:

Don't miss the best the Chatham's has to offer. The perfect match, why not add 2-3 days at Flowerpot Bay Lodge on Pitt Island as part of your Chatham's experience. We work closely with main Island providers to make this happen seamlessly

For a quote, please refer to our bookings page or email us directly.
Files to download
Right mouse click and "save" the file to your computer or click to view it onscreen. If you cannot open these files, the following software may be downloaded: Adobe Reader
Hunting Fishing Packages
For those that have a particular interest in our amazing wild sheep hunting and fishing, there are a range of packages on the attached flyer to download. We can also tailor any combination package to suit your needs.Download Hunting & Fishing packages information.
Hunting Flyer
Professional guide catering for all skill levels. From single day hunts, fly in - fly out, to full five day packages with your choice of hunting or fishing. Flowerpot Adventures can arrange everything for you. Advanced bookings are essential. Download Hunting DLE card
Pitt Island Day Tour
This unique fully escorted day tour of Pitt Island takes in some of the most scenic vantage points around the Island. Tours can be tailored for specific groups subject time constraints and weather conditions.Download our Day Tour flyer
Flowerpot Bay Lodge flyer
Download our DLE Advertising rack card
Lodge Information Brochure
Download our General Information brochure about Flowerpot Bay Lodge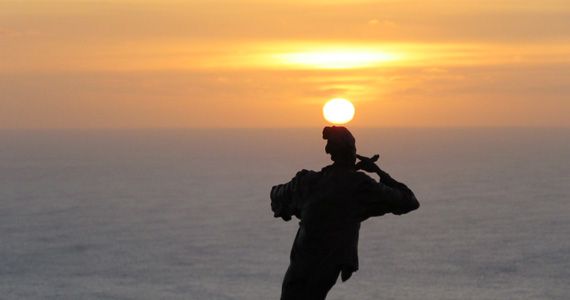 Activities Provided by Other Operators
Scenic Flights - Air Chathams offers scenic flights around the Chatham Islands
Transfer flights - Operated by Air Chathams

Fishing Charters and Pitt transfers - Owenga Charters, Chatham Adventures
Shark Cage Diving - With Hotel Chatham Fishing Charters.
Chatham Island Tours
Various operators offer boat and bus tours from Owenga, Waitangi,
Port Hutt and Kaingaroa.
Additional Information
All guest activities provided by Flowerpot Bay Lodge are fully guided by your hosts.

Any choice of activities listed are available as part of any quoted package or at casual rates where listed.

Because of our extreme isolation and limited access to emergency services, our Charter requires that guests are accompanied when visiting DOC estates or other private land.

Guiding is included in listed rates and packages.

Activities will be dictated by group consensus depending on weather conditions and fitness.

A reasonable level of fitness is required to undertake most activities.

Pitt Islanders generally travel by quad bike. This is an ideal way to explore the island. However, walking is an alternative low impact way to fully enjoy the scenery and tranquility the island offers.