Pitt Island is acknowledged as being the jewel in the Chatham Islands' crown, renowned for its spectacular scenery and atmosphere.
Pitt Island is approximately 16,000 acres with around 6,000 acres under the control of DOC with 3000 acres as bush and nature reserves. The remainder of the island is privately owned and farmed. The island's seven farms run approximately 12,000 stock units. The other main sources of income on the island are crayfish and paua fishing.
The island's population comprises around 26 adults and 12 children. The school caters for years 1 to 10; older children usually attend boarding school in NZ. Other than Flowerpot Bay Lodge, the church and school, there are no public buildings or services on Pitt Island.

Pitt Island Terrain & Conservation
Pitt Island's isolation over the centuries has ensured numerous plant, bird and insect species have survived. Recognising this, the Department of Conservation (DOC) has invested millions of dollars to protect and enhance the delicate Pitt Island bush reserves and outer Islands. Pitt, Mangere and Southeast Islands remain predator free after 150 years of European occupation: a testament to DOC's work.
Mangere and Rangatira (South East) Islands
The area's two largest islands after Chatham Island and Pitt Island are called Mangere and Rangatira. These two Crown-owned islands are designated nature reserves and are vital for the conservation of the Chatham Islands flora, fauna and ecosystems. Free of all introduced predators and pests, these are some are the last remaining refuges of Chatham endemic species. To ensure that the predator-free status of these islands is maintained, access to both Mangere and Rangatira is tightly-controlled. Access is by permit only and is generally restricted to those undertaking management activities.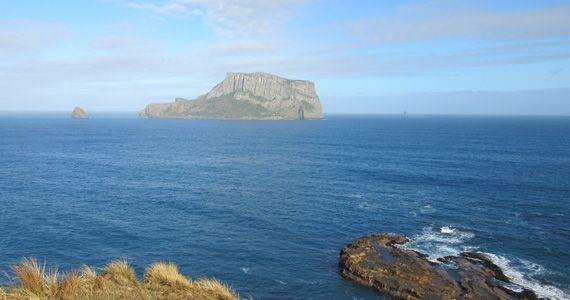 The Pitt Island Wild Sheep Story
Pitt Island sheep are otherwise known as Spanish or Saxony merino sheep. These sheep are descendants of animals imported into New Zealand by Samuel Marsden on his ship the 'Active' sometime between 1814 and 1837. Marsden was the instigator, along with John McArthur, of the Australasian wool industry, and this year [1997] marks the bicentennial of that event, for in 1797 progeny in South Africa of a small flock presented to the Government of the Netherlands by the King of Spain in 1789 and sent to South Africa, were brought into Australia by him. The Spanish Merinos had been jealously guarded by Spain for centuries because of its fine wool, and survived through the upheavals of war and famine. They are related to the even more ancestral Mouflon from the mountainous regions of Corsica and Sardinia. As a feral sheep, having been wild on Pitt Island at the Chatham Islands since 1843, they hold a wealth of genetic treasure.
The sheep have clear black legs and faces, and long very fine brown wool that will moult. The rams come well-equipped with large rolling horns, while a minority of the ewes have weaponry much like a Saanen nanny goat, thin lightly curved stiletto shaped horns. The lambs, which cannot be run down within a week of birth, are born predominantly black, but some with patches of white may show up, while others may be a ginger or coffee colour. By the time they are hoggets however, their normal colour predominates, and of course the tails are left on. In the wild, lambing can occur from April to November, and at times the young rams form separate bachelor herds. Twinning is normal. The meat is lean, and the fine wool excellent for spinning. Using them to cross-breed can produce a superior fine fibre.
The Spanish Merino is related to the Arapawa and Hokonui feral sheep, as they also derive from the voyage(s) of the brigantine 'Active'. Marsden operated a farm near Wellington, and a Wellington-based trader put a flock of 50 on South-East Island (a couple of miles off Pitt where the Black Robins now thrive) and sold them shortly after in 1842 or 3 (when there were around 300), to the first European on Pitt, Frederick Hunt, who used them to supply whaling ships and sell the wool. (When the whaling finished, Pitt Island didn't see a sail for seven years). The breed quickly returned to their wild state, eating out all the young Nikau seedlings, a species that the Chatham Island Wood Pigeon possibly depended on, with the result today that outside and inside the reserves, there remain only old Nikaus (different to the NZ types) that are quickly dying out, and there are no pigeons now on Pitt, while I think the pigeons on the main Chatham Island are only just recovering from their low point of 50 birds. (A bigger bird than we see here). Originally they were all white. In the 1940s, a black sheep was a rarity. Half were black by 1960 and by 1997 90% of the flock was solid black at the skin, with brown fleeces.
With permission - Don Armitage ©
August 1997